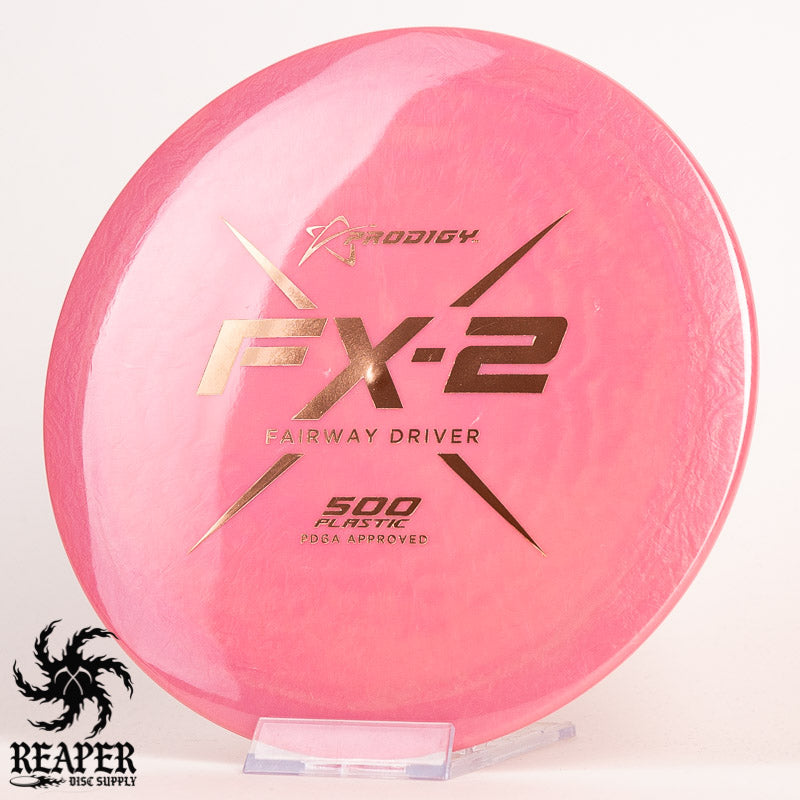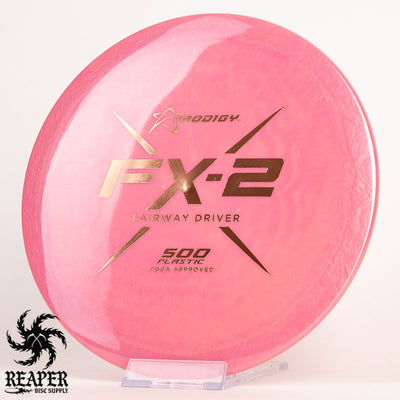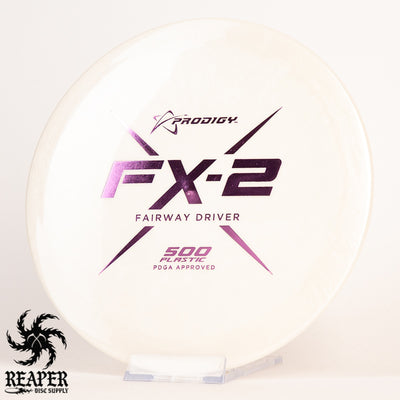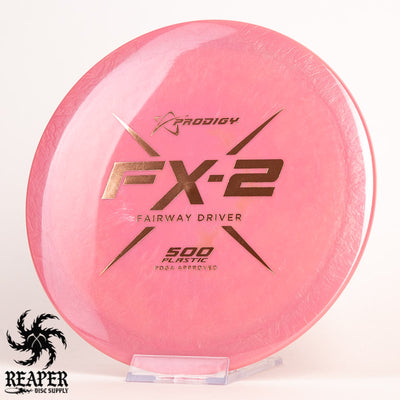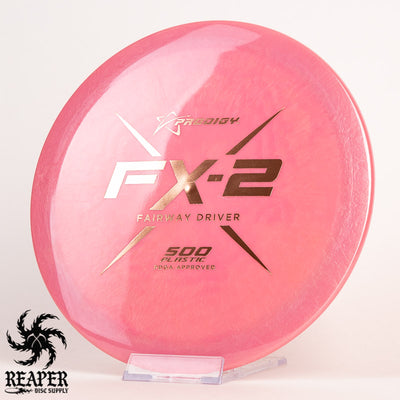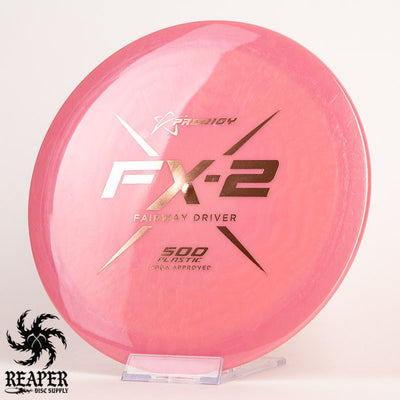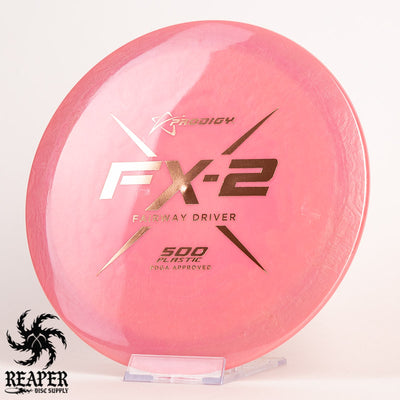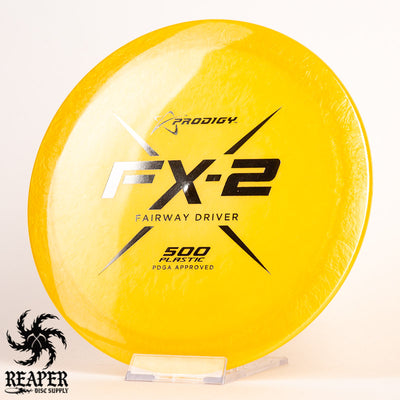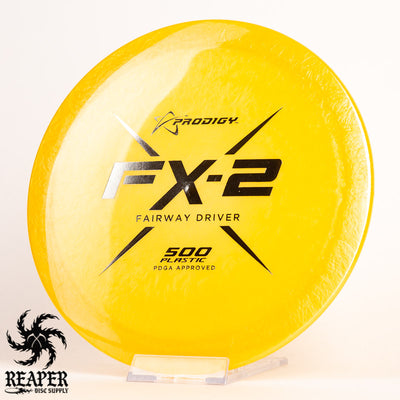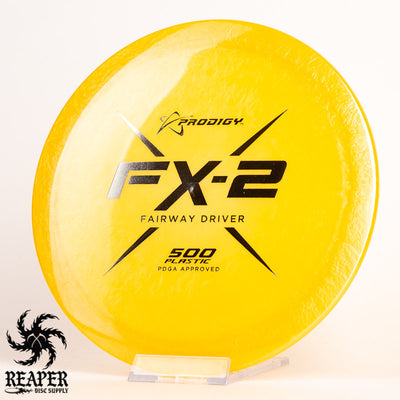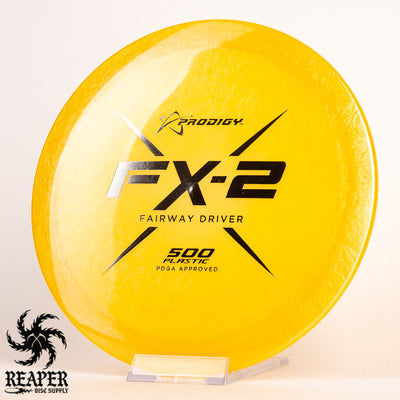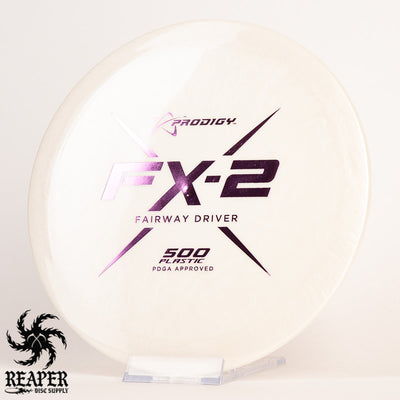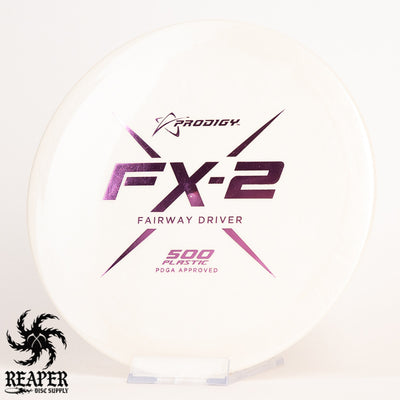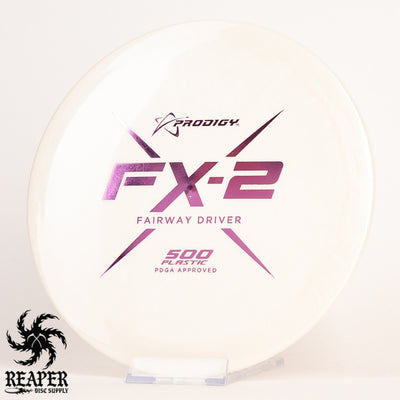 The Prodigy FX-2 500 is an overstable fairway driver and the first release the FX disc line. Made with premium 500 plastic that is easy to grip and hard/stable.
The FX-2 is basically a cross between a fairway/distance driver. I wouldn't recommend this disc to beginners unless you are using it for sidearm drives. 
For intermediate and advanced players; when thrown flat, the FX-2 will slightly turn before fading strongly to the left. Once it begins fading, it stops moving forward, which is great for landing it near the basket. This disc is also fantastic for skip shots and anhyzer turnover lines.
One thing to note about the FX-2 is that has a somewhat deep and unique feeling rim. I find it easier to grip than a normal driver, but I know some people are put off by the feel. I predominately use this disc for forehand drives and love how deep it fits in my hand because it gives me more control and power.
If you are looking for a distance driver with more speed we also carry the D1 400, D2 400, and Cale Leiviska Falcor. For 500 plastic fans; we also have the M4 500 midrange as well, and the MVP Cosmic Neutron Volt flies very similarly. We also have the Isaac Robinson F3 400
Prodigy FX-2 500 Flight Numbers
Speed: 9
Glide: 4
Turn: -1
Fade: 3
Commonly used for: Overstable skip shots
Stability: Overstable
Dimensions & Specs
Max Weight: 175.1 gr
Flexibility: 12.16 kg
Rim Depth: 1.2 cm
Rim Thickness: 2 cm
Height: 1.6 cm
Diameter: 21.1 cm