MVP Electron Nomad (Cosmic, Soft, Medium, Firm)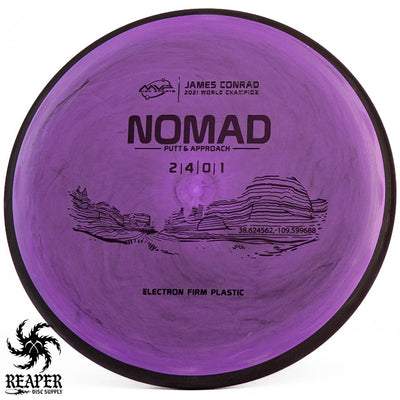 The MVP Electron Nomad is a beginner friendly stable putt & approach disc designed by James Conrad.
2021 World Champion James Conrad is debuting his signature line with the MVP Nomad, a PDGA approved neutral-stable putter. His line of discs will be inspired by some of his favorite places on Earth- and the Nomad concept encapsulates his travels to Arches National Park in Moab, Utah. 
With a small bead and the ability to hold hyzer and anhyzer angles, the Electron Nomad is James' perfect putter. The disc will feel comfortable in many hands as James has put a lot of thought into the shape of the Nomad.
The outer rim of the Nomad is very grippy, and the Electron plastic has a wonderful ability to stick to the chains, and can take a lot of power without compromising its flight quality.
The MVP Nomad is a very beginner-friendly putter and can be used by players of all skill levels. The high glide rating makes this disc an excellent putter for longer putts, but will grip the chains well from any distance.
We also have the MVP Nomad in Electron Firm plastic as well as the R2 Neutron Nomad, and Plasma Nomad. For a similar flying disc check out the Discmania D-Line P2 or MVP Anode in Electron.
MVP Electron Nomad Flight Numbers
Speed: 2
Glide: 4
Turn: 0
Fade: 1
Commonly used for: Putting Putter
Stability: Stable
Dimensions:
Height: 2 cm
Diameter: 21.2 cm
Rim Depth: 1.4 cm
Rim Width: 1.1 cm