Axiom Electron Envy (Cosmic, Soft, Medium, Firm)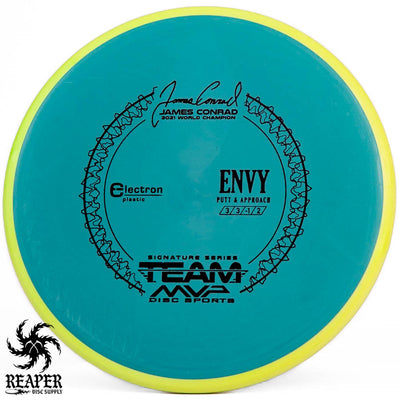 Whether you throw an Axiom Electron Envy in Soft, Medium, Firm, or Cosmic Electron plastic, you can't go wrong with this popular putt & approach disc!
Most commonly used as an approach disc, the Axiom Electron Envy has enough overstability to handle a lot of high-speed torque. You can throw this disc hard and fast without having to worry about it turning over on you.
Electron plastic is a tacky and grippy plastic that won't slip out of your hand. It is one of the best plastics for slow-speed discs and can be used for approach shots or as a putting putter.
Electron Soft plastic is a gummy plastic that still holds up well for being a base plastic. This is the most popular Envy putting plastic and is the least stable. Electron Soft is great for snow or cold weather rounds as well.
Axiom's Electron Firm plastic is a hard, tacky putter plastic that guarantees your disc won't slip out of your hand. Although the Envy is typically used as an approach disc, Electron Firm plastic is the most popular plastic used for players who putt with this disc.
Axiom's Cosmic Electron plastic comes in Firm, Medium, and Soft. It is the same plastic as other Electron plastics but with awesome swirly colors.
The Electron Envy has a very small rim which is great for players who prefer a low-profile grip but could be off-putting for anyone with large hands. The thin and small edge is one of the many reasons this disc is popular among forehand players.
We also have the Axiom Neutron Envy, Prism Plasma Envy, Plasma Envy, and Eclipse 2.0 Glow Envy and Neutron Soft Envy in our Axiom Envy store.
Axiom Electron Envy Flight Numbers
Speed

: 3

Glide

: 3

Turn

: -1

Fade

: 2
Commonly used for: Approach disc
Stability: Stable to overstable
Experience: Any
Rim: Beadless
Firm & Soft Envy Dimensions & Specs
Height

: 1.8 cm

Rim Depth

: 1.4 cm

Rim Thickness

: 1.1 cm

Diameter

: 21 cm

Flexibility

: 8.73 kg

Max Weight:

 174.3 gr