Axiom Eclipse 2.0 Glow Envy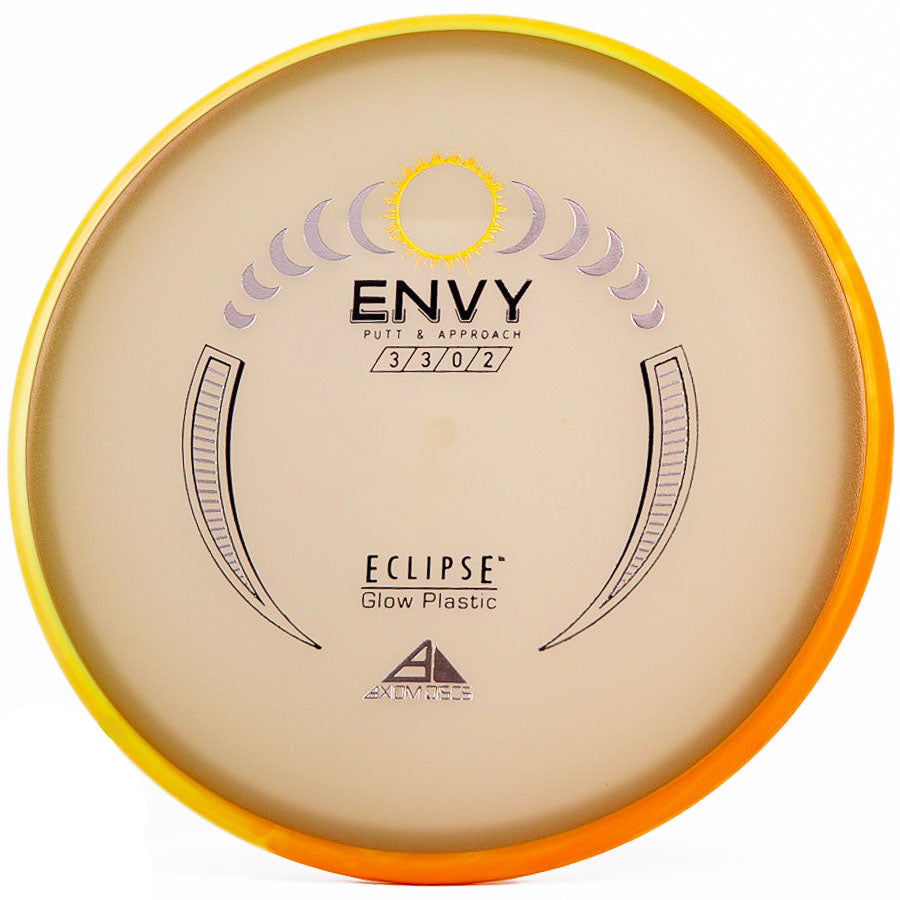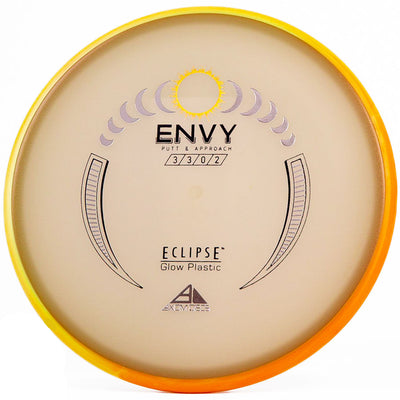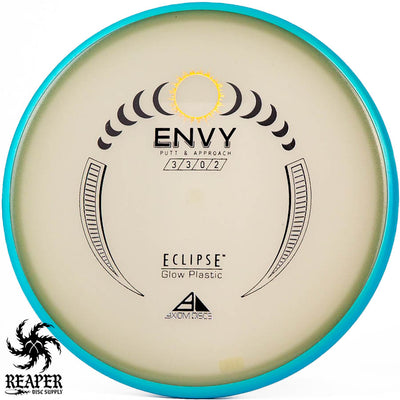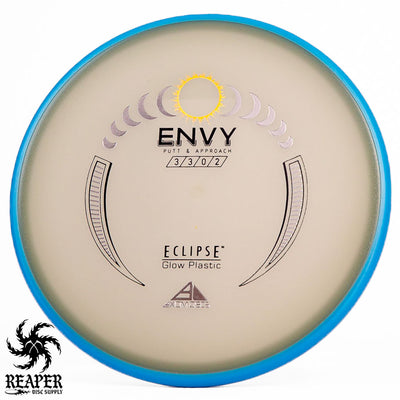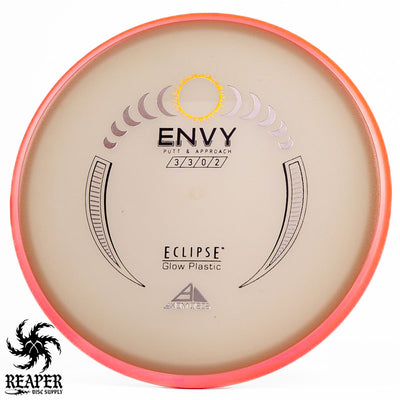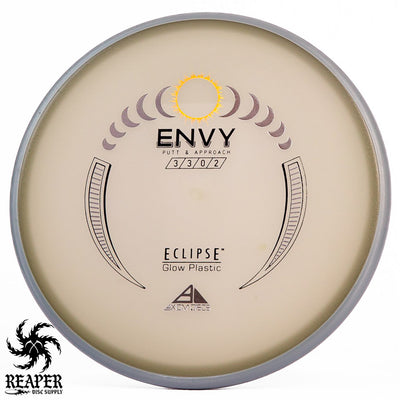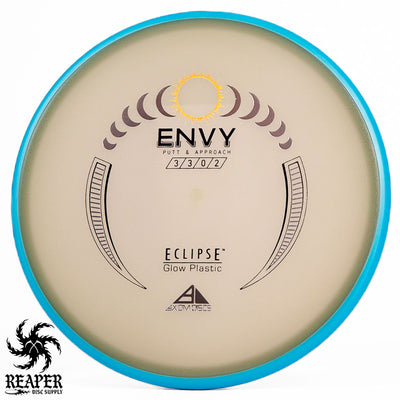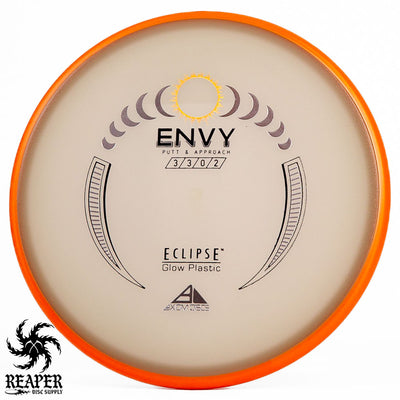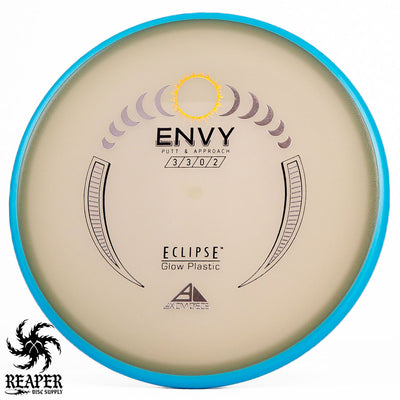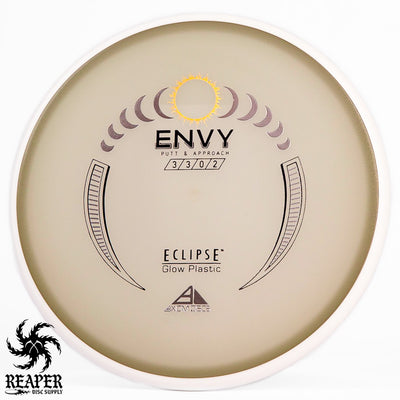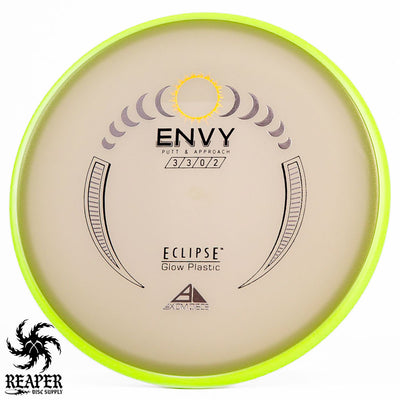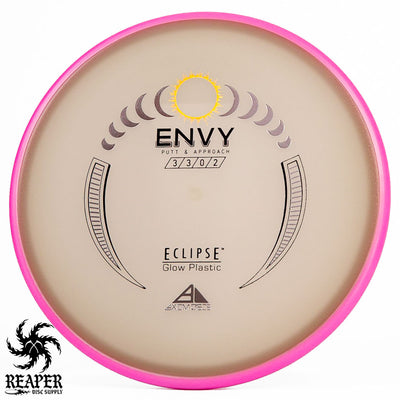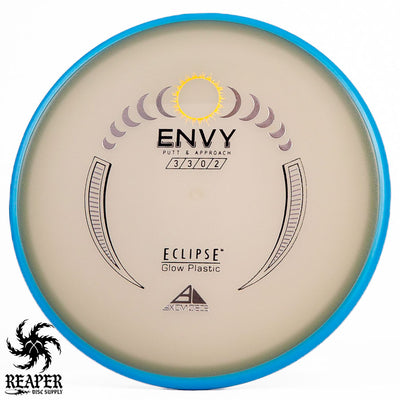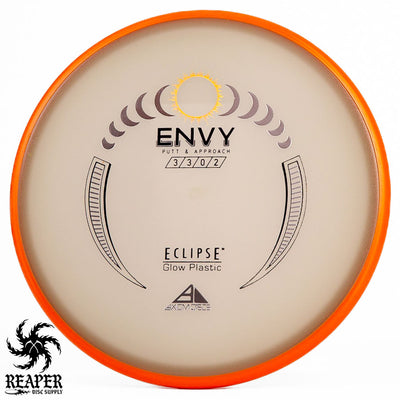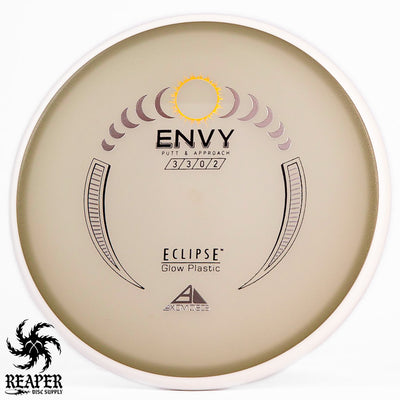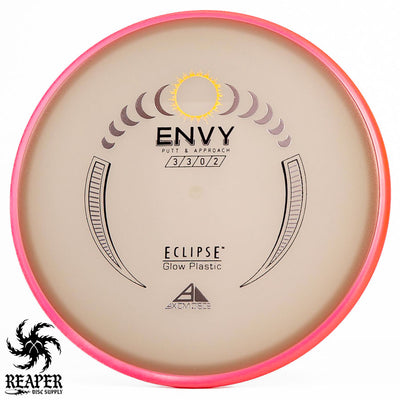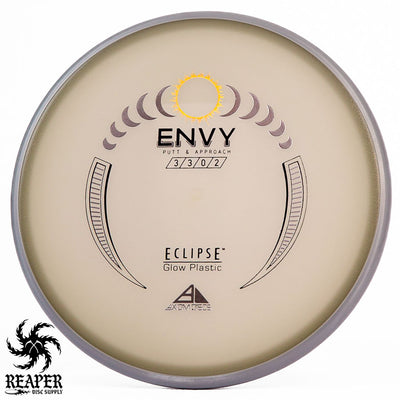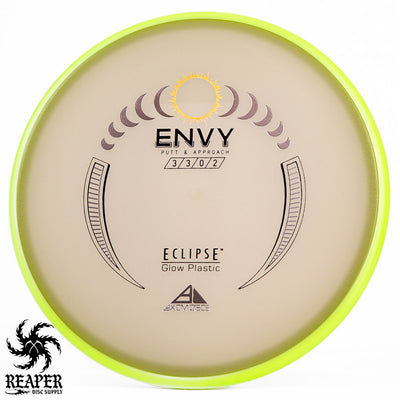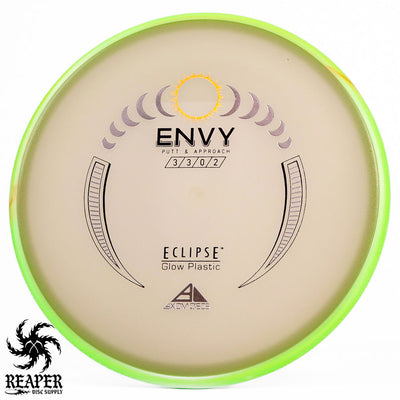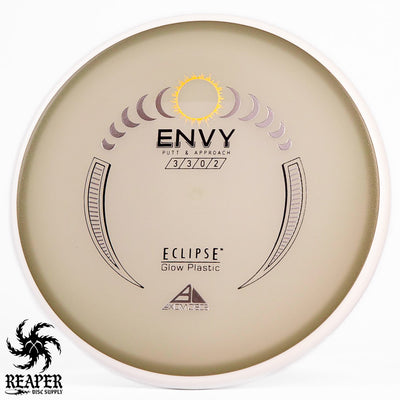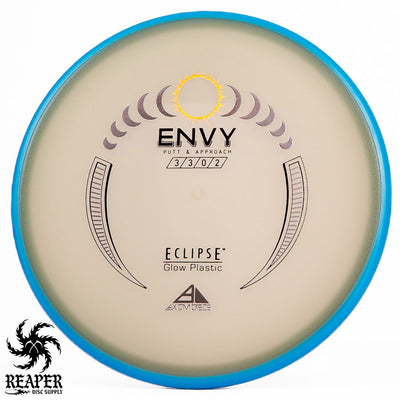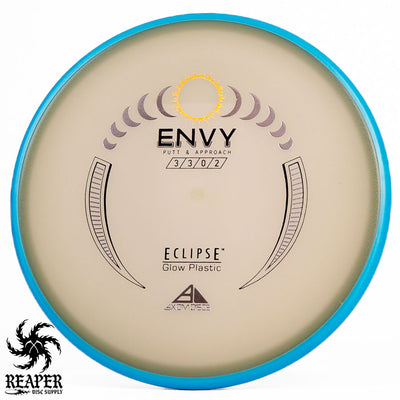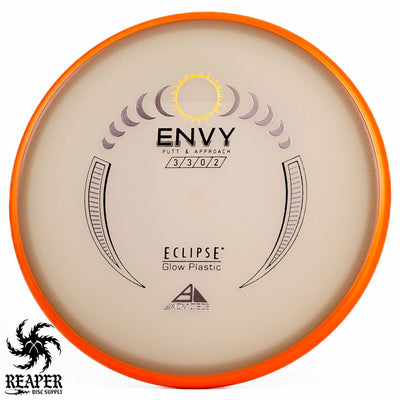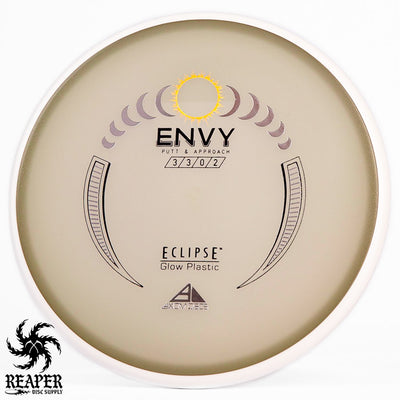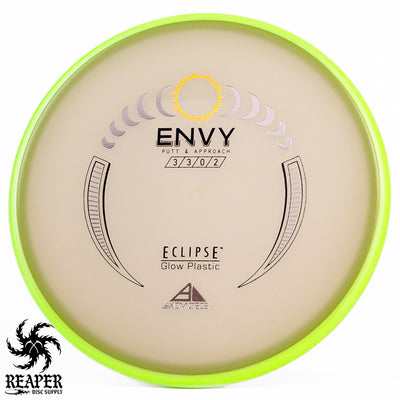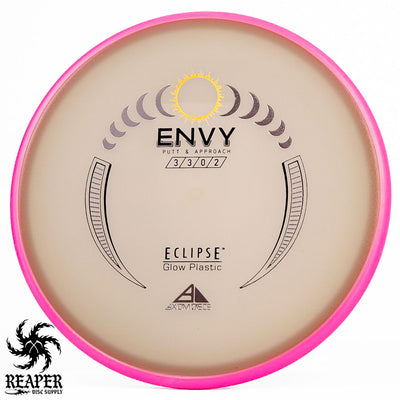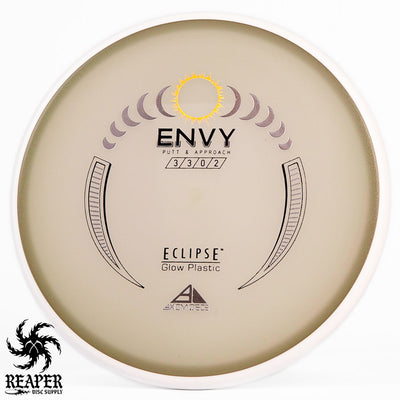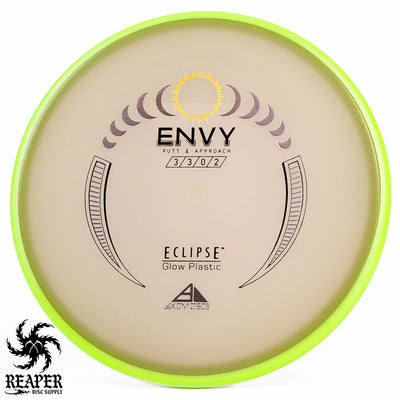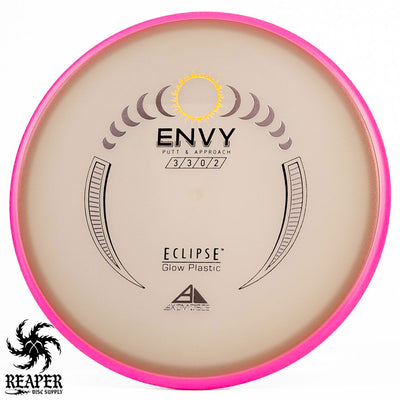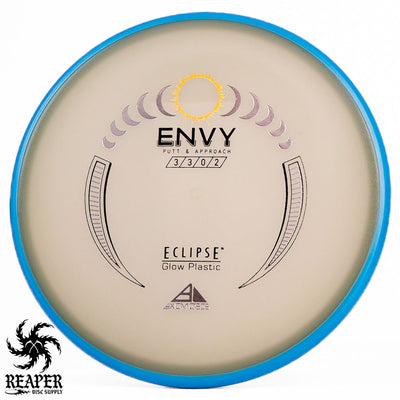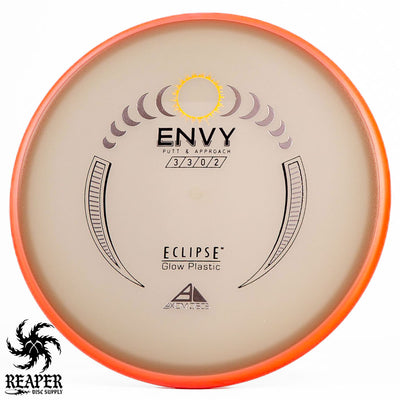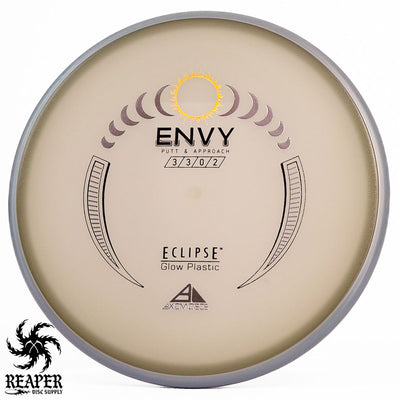 The Axiom Eclipse 2.0 Glow Envy is a slightly overstable disc used for putting and approach shots. When the new Axiom Disc Golf line was created in early 2014, the Envy was the first putter mold put out on the market. 
Axiom Eclipse Glow Envy Review
If you haven't thrown Axiom's Eclipse 2.0 Glow plastic yet, you are in for a treat. It is hands down the brightest glowing plastic we have ever tested. By far. And it holds a charge for longer than other plastics too.

As a slower putter with reliable high-speed stability, this disc is a uniquely "lid-like" stable putter. For lower power throwers, the flat top, low-profile, and rounded edge with the signature MVP overmold design are great for lending confidence in working on putting and approach throws. Its shallow, beadless outer rim will give players of all skill levels a clean release time and time again.

When it comes to flight characteristics, the Axiom Glow Envy will hold a straight line at high speeds for stronger throwers and be stable enough to be a remarkable approach disc or learning tool for beginners. The flight stability is broadly similar to the MVP Ion but will feel different due to the Envy's thicker wing. It can take a lot of torque but truly shines when thrown flat and smoothly, forehand or backhand.

The durability of the Envy in Glow plastic is worth mentioning, as even after years of seasoning in, it still flies true to its flight numbers. This is due to the dense thermo-plasticized urethane used by MVP and Axiom to create their discs' rims. However, even if it can handle occasionally hitting a couple of trees on the disc golf course, do be wary of chucking this disc at full power into a sharp-edged metal sign, for instance, which will absolutely leave a mark.

Overall, this disc has a relatively minimal and gentle fade but good glide, making it a trusted disc for plowing down those fairways. You'll see it display a nice straight flight path and then will finish left just a tad, flying true to its flight numbers. The Eclipse Envy also holds up decently well in the wind. If you find yourself in wet weather, different plastics will yield better results.

The Axiom Envy should be in every disc golf enthusiasts' bag because of its helpful versatility and how it fits in any hand perfectly. It's a smart move to keep a few in various plastics and different stages of wear in your bag. Either way, you'll find yourself making the Envy your go-to approach disc soon enough. We also have the Axiom Plasma Envy, and check out the Axiom Eclipse Glow Proxy for an understable version of the Envy.
Check out all the plastics we have available here: Axiom Envy Putter
Axiom Eclipse Glow Envy Flight Numbers
Speed: 3
Glide: 3
Turn: 0
Fade: 2
Stability: Overstable
Commonly used for: Approach shots
Dimensions:
Diameter: 21 cm
Height: 1.8 cm
Rim Depth: 1.4 cm
Rim Thickness: 1.1 cm
Max Weight: 174.3 gr
Flexibility: 8.73 kg