MVP Neutron Signal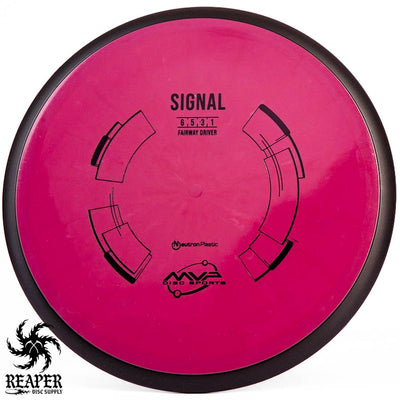 The MVP Neutron Signal is an understable fairway driver that can be used by players of any skill level. MVP Neutron plastic is a phenomenal plastic that has outstanding grip and can hold up to a barrage of damage.
MVP's Signal is a hyzer-flip and roller machine. The flight of this disc is similar to Innova's Leopard but from my experience is slightly less stable. A great disc for beginners who haven't developed their technique. Intermediate players can easily throw turnover and hyzer flip lines, and it works wonderfully for rollers as well.
If you need a flippy fairway driver that is easy to throw; give the MVP Neutron Signal a shot.
You may also like: MVP Neutron Uplink, Axiom Neutron Paradox, Innova Halo Star Leopard3
MVP Neutron Signal Flight Numbers
Speed

: 6

Glide

: 5

Turn

: -3

Fade

: 1
Commonly used for: Fairway drives
Stability: Understable
Experience: Any
Dimensions & Specs
Height

: 1.5 cm

Rim Depth

: 1.2 cm

Rim Thickness

: 1.2 cm

Diameter

: 21.1 cm

Flexibility

: 11.11 kg

Max Weight:

 175.1 gr