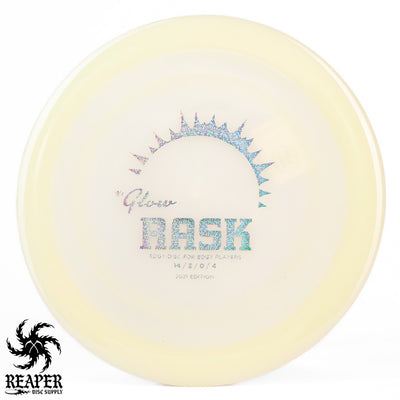 Illuminate your next night round with the Kastaplast K1 Glow Rask, a beefy driver made from ultra-durable K1 Glow Line plastic, boasting an extremely bright glow.
The Rask, an innovative concept disc, features Kastaplast's unique drag reduction technique, delivering incredible speed and overstable performance despite its narrow rim width. Perfect for advanced players, headwind shots, hyzer bombs, and tricky situations, the Kastaplast K1 Glow Rask is a fast af distance driver that belongs in your bag.

Check out more Kastaplast Rasks.
Flight Numbers
Speed: 14
Glide: 3
Turn: 0
Fade: 4
Commonly used for:
Distance Driver
Stability:
Overstable
Experience:
Advanced
Rim:
Beadless
PDGA Dimensions
Height: 1.6 cm
Rim Depth: 1.1 cm
Rim Thickness: 2.2 cm
Diameter: 21.2 cm
Flexibility:
Max Weight: 176.0 gr