Kastaplast K1 Berg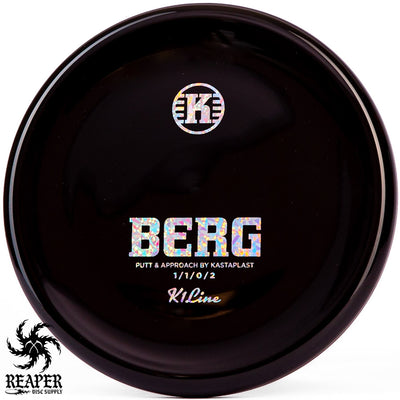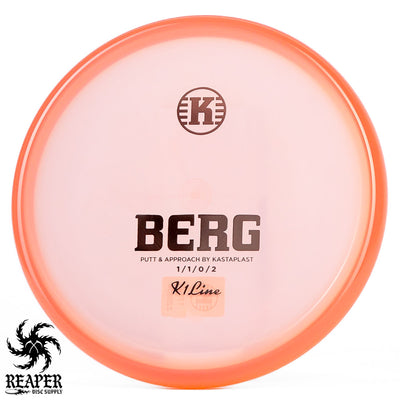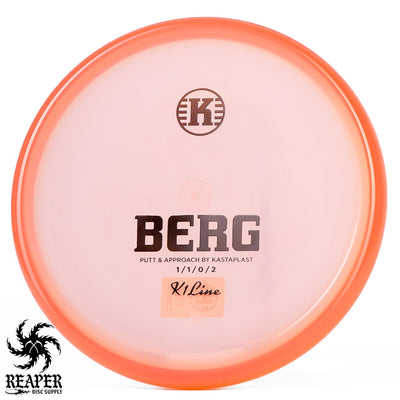 The Kastaplast K1 Berg is one of the best beadless putt and approach discs on the market. With little to no glide, you won't have to worry about unpredictable approach shot skips.
This isn't the only Kastaplast Berg for sale on our shop! We also carry the K3 Berg, K1 Soft Berg, and K3 Hard Berg.
Kastaplast Berg Flight Numbers
Speed: 1
Glide: 1
Turn: 0
Fade: 2
Commonly used for: Putt & Approach
Stability: stable to overstable
Experience: Any
Rim: Beadless
K1 Berg Disc Dimensions & Specs
Height: 2.0 cm
Rim Depth: 1.4 cm
Rim Thickness: 0.9 cm
Diameter: 21.1 cm
Flexibility: 4.31 kg
Max Weight: 175.1gr
My Kastaplast Berg Review
First off - this disc's concave top provides a comfortable thumb track that feels great in the hand and adds a unique design element to this fan-favorite putter. Although the groove track is an acquired taste and not everyone will prefer its design, I find it extremely comfortable in the hand, especially for forehand throws. It just feels like I have a little more control with it.
Kastaplast's Berg K1 is made with premium-grade plastic that is grippy enough to provide a clean release while also handling the most extreme beatings you can throw at it. I've had the same Berg in my bag for over three years, and it is still my go-to on windy days, so I speak from experience when I say this plastic is durable.
Is The Berg A Good Putter?
The short answer is: yes, the Berg is a good putter for windy situations, although it is most commonly used as an approach disc.
While this can be a hotly debated topic, I personally find myself using this disc for upshots but will occasionally putt with it in heavy winds. The reason that I find the Berg so useful when laying up to the basket is its ability to hold pretty much any line, especially as it beats in.
Since the disc has virtually no glide, it will try to sit down almost immediately, which makes runaway shots virtually a non-issue. While it is an extremely straight flying disc, it does have some slight overstability so throwing it in the wind isn't out of the question.
All in all, I give this slow and straight disc golf disc a 9/10 rating and recommend it for any skill level of player.