Innova Star Mamba (Reaper Edition)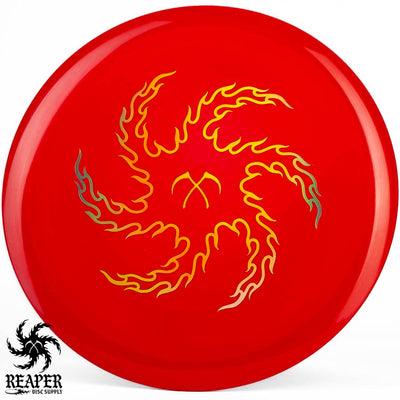 Discover the control and distance you've been seeking with the Reaper Edition Innova Star Mamba.
This high-speed understable distance driver, molded in ultra-durable and grippy Star plastic, is perfect for beginners and intermediates. With flight numbers of 11/6/-5/1, it breezes around obstacles, navigates wooded areas, and is easy to fine due to its high visibility premium Star plastic.
Ideal for throws under 300ft or as a backhand roller for stronger arms, the Star Mamba offers a beneficial learning curve and performance boost to your disc golf game.

If you like more stability check out the Halo Mamba, or shop all of our Innova Mamba drivers!
Star Mamba Flight Numbers
Speed: 11
Glide: 6
Turn: -5
Fade: 1
Commonly Used For: Distance Driver
Stability: Understable
Experience Level: Any
PDGA Dimensions
Height: 1.7 cm
Rim Depth: 1.1 cm
Rim Thickness: 2.1 cm
Diameter: 21.1 cm
Flexibility: 8.48 kg
Max Weight: 175.1 gr