Discraft ESP Heat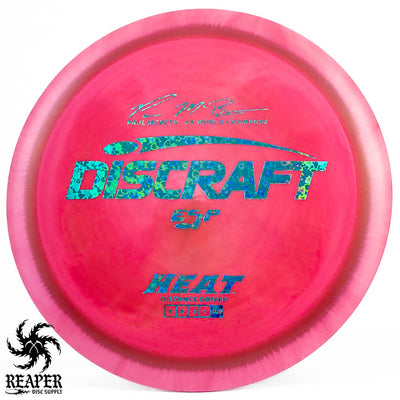 The Discraft Heat ESP is an understable disc golf distance driver that's made with premium plastic and is great for players of all skill levels.
This disc is very easy to throw and I highly recommend it to new players as their first driver since it doesn't require much arm speed to throw. Intermediate and advanced players can use the ESP Heat for huge hyzer flips, rollers, and turnover lines. It is also ideal for uphill shots due to the insane amount of glide and ease of throwing.
The Discraft ESP Heat is one of the most popular understable drivers on the market so throw one in your bag with confidence.
Check out more Heats here.
You may also like: MVP Neutron Impulse, Halo Roadrunner, Axiom Neutron Virus 
Discraft ESP Heat Flight Numbers
Speed

: 9

Glide

: 6

Turn

: -3

Fade

: 1
Commonly used for: Distance drives, rollers
Stability: Understable
Experience: Any
Dimensions & Specs
Height

: 2.1 cm

Rim Depth

: 1.2 cm

Rim Thickness

: 1.9 cm

Diameter

: 21.1 cm

Flexibility

: 11 kg

Max Weight:

 175.1 gr