Axiom Neutron Insanity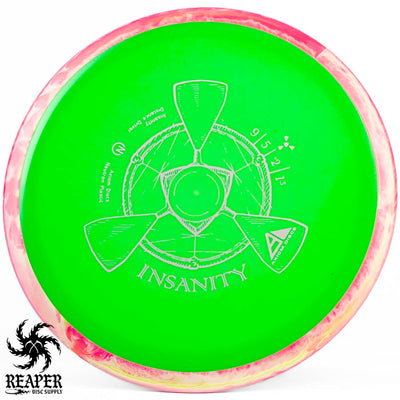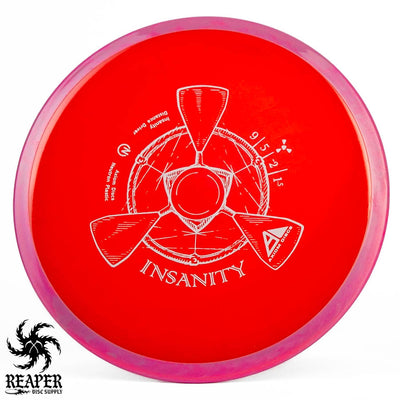 The Axiom Neutron Insanity is a stable to understable disc golf distance driver that is great for any skill level.
Be advised that most dyed discs are likely to possess ink droplets or smudges on the underside or perimeter as a result of handling them during the dyeing process.

Once you've figured out your throwing and nose angles, you can get this Neutron Insanity to hold pretty much any line. This is one of the straightest flying drivers in my bag, and the Neutron plastic can withstand a ton of damage.
It's also perfect for sidearm dominate players since it has an average-sized rim that fits comfortably in the hand. You can also huck it as hard as you want since it has a decent amount of torque resistance.

The Axiom Insanity is an excellent, versatile disc that you'll find yourself reaching for time and time again.
More plastics: Insanity Proton, Insanity Plasma, Insanity Fission.
Axiom Neutron Insanity Flight Numbers
Speed

: 9

Glide

: 5

Turn

: -2

Fade

: 1.5
Commonly used for: Distance Driver
Stability: Stable to understable
Experience: Intermediate +
Axiom Insanity Dimensions & Specs
Height

: 1.4 cm

Rim Depth

: 1.1 cm

Rim Thickness

: 2.0 cm

Diameter

: 21.1 cm

Flexibility

: 8.28 kg

Max Weight:

 175.1 gr