Kastaplast K1 Falk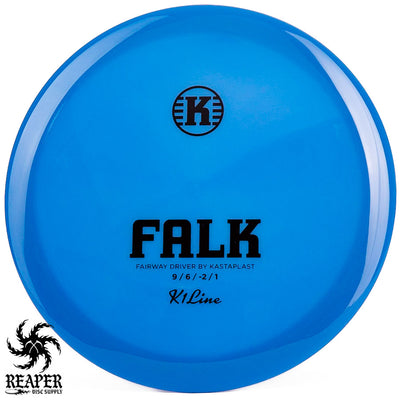 The Kastaplast K1 Falk is one of the most popular fairway drivers in Kastaplast's line up, and for good reason! With a speed rating of nine, this disc is an excellent driver for newer players who haven't developed arm speed. More experienced players will be able to throw this understable disc with hyzer and get it to flip over for maximum distance. The Falk is an excellent choice for players of any skill level.

Kastaplast's K1 plastic is a premium grade plastic that is grippy enough to provide a clean release, and handle the most extreme beatings you can throw at it. Many players consider K1 to be the best plastic on the market currently.
Shop Kastaplast discs here.
K1 Falk Flight Numbers
Speed

: 9 

Glide

: 6

Turn

: -2

Fade

: 1
Commonly used for: Fairway Driver
Stability: Understable
Experience: Intermediate
Rim: Beadless
Dimensions & Specs
Height: 

1.8 cm

Rim Depth: 

1.1 cm

Rim Thickness: 

1.9 cm

Diameter: 

21.1 cm

Flexibility: 

9.53 kg

Max Weight: 

175.1 gr