Innova Star Wraith (Reaper Edition)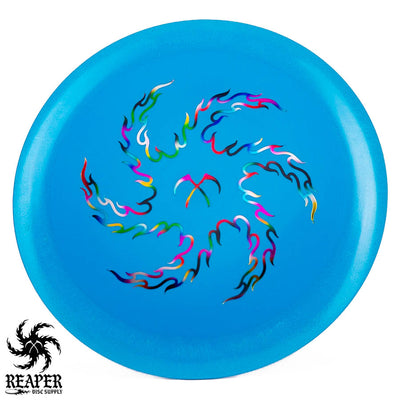 Experience exceptional glide, speed, and precision accuracy with our Reaper Edition Innova Star Wraith.
Ideal for intermediate to advanced players, this overstable, long-distance driver is a game-changer for windy rounds and max distance. Its neutral to overstability offers incredible distance for both backhand and forehand throws.
Crafted from Innova's premium Star plastic, not only does the Wraith boasts maximum grip and durability but is highly visible on the course too. Trust me, this Reaper Edition Star Wraith is ready to help you conquer the fairways and elevate your disc golf game!

Shop more: Innova Wraith
Flight Numbers
Speed: 11
Glide: 5
Turn: -1
Fade: 3
Beginner Friendly?: No
Disc Type: Distance Driver
Stability: Overstable
Plastic: Star
Shot Types: Forehand and Backhand Drives
PDGA Dimensions
Height: 1.4 cm
Rim Depth: 1.2 cm
Rim Thickness: 2.1 cm
Diameter: 21.1 cm
Flexibility: 8.85 kg
Max Weight: 175.1 g