Discraft Z Scorch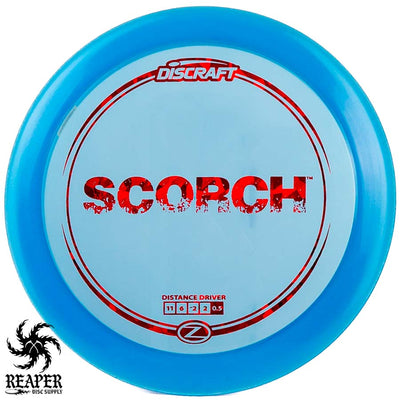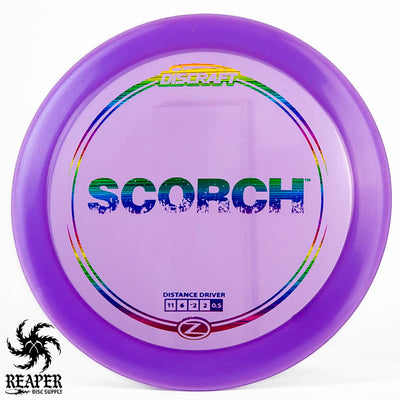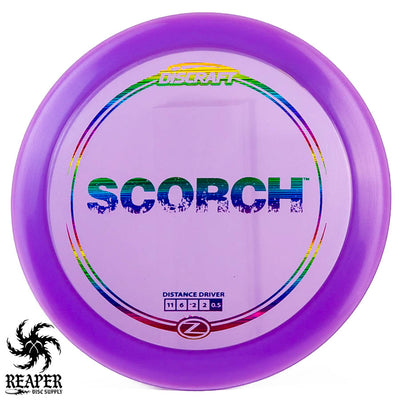 The Z Scorch is a stable, glidey distance driver in the Discraft lineup. These First Run Scorches are extra glidey and slightly understable. Beginners will find this driver to be very forgiving and fight early fade, while more experienced players will be able to hyzer flip the Scorch for maximum distance shots. 

Discraft's Z plastic is a premium plastic with slight translucence and is designed to take a beating. Z plastic has the perfect amount of grip to not feel slick in the hand even when sweating and will provide a clean release every time you throw the disc. 
More plastics: ESP Scorch, Z-Swirl Scorch.

Discraft Z Scorch Flight Numbers:
Speed: 11
Glide: 6
Turn: -2
Fade: 2
Stability: Stable
Primarily Used For: Long straight distance drives & turnover drives.
Specs:
Diameter: 21.1 cm
Height: 1.8 cm
Rim Depth: 1.1 cm
Rim Thickness: 2.2 cm
Max Weight: 175.1 gr
Flexibility: 12.05 kg