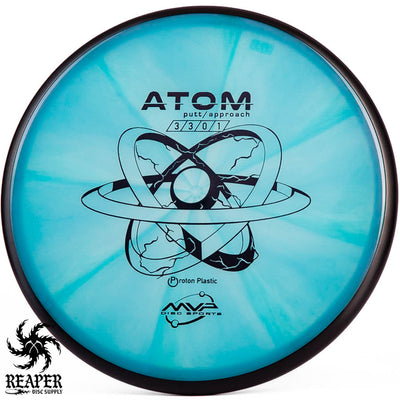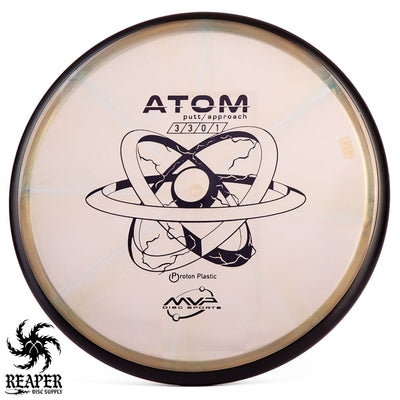 Meet the MVP Proton Atom - the definition of precision. Made from MVP's durable and translucent proton plastic, this stable putter is designed to excel in even the most unforgiving weather.
With a stable flight path and slight end fade, the Proton Atom can handle both off-tee throws and long approach shots with ease. When it's time for your crucial putt, you'll appreciate the straight and predictable glide of this putt and approach disc.
Whether you're weaving through a wooded course or smashing a straight drive, the MVP Proton Atom is a reliable companion that will make a great addition to your bag.

Shop more MVP Atoms.
Flight Numbers
Speed: 3
Glide: 3
Turn: 0
Fade: 1
Beginner Friendly?: Oh heck ya
Disc Type: Putter
Stability: Stable
Plastic: Proton
Shot Types: Putting, Off-tee throws, Long approaches
Proton Atom Dimensions
Height: 1.9 cm
Rim Depth: 1.4 cm
Rim Thickness: 1.1 cm
Diameter: 21.1 cm
Flexibility: 7.82 kg
Max Weight: 175.1 gr