MVP Neutron Watt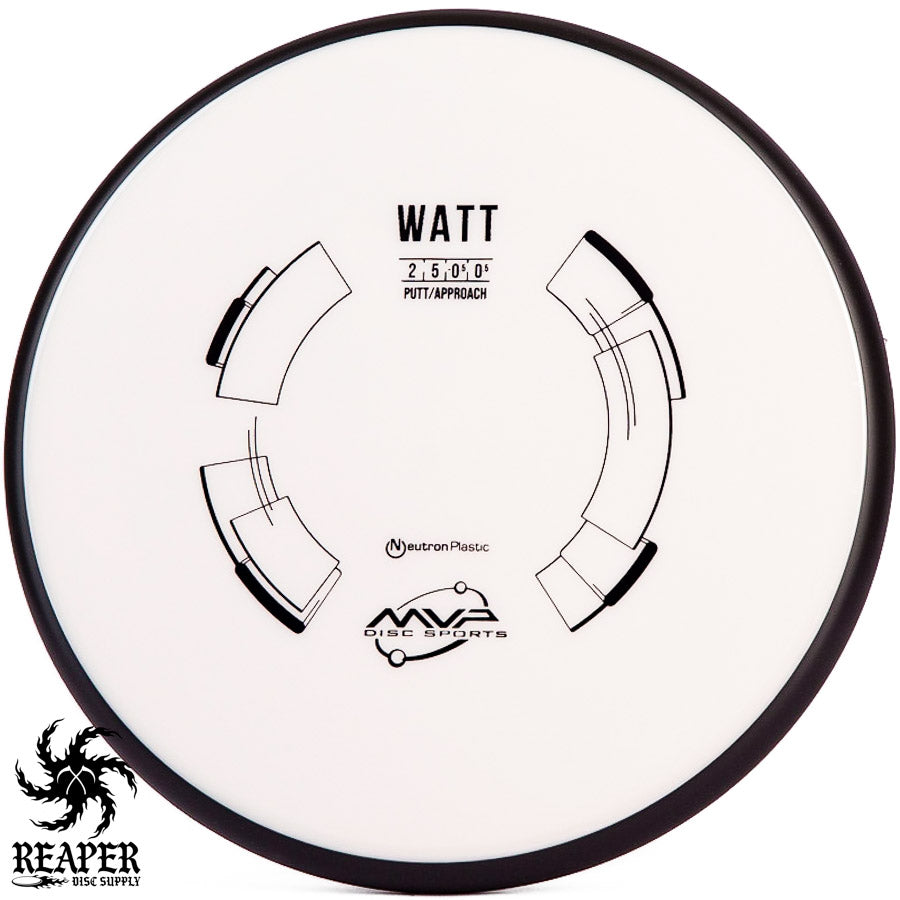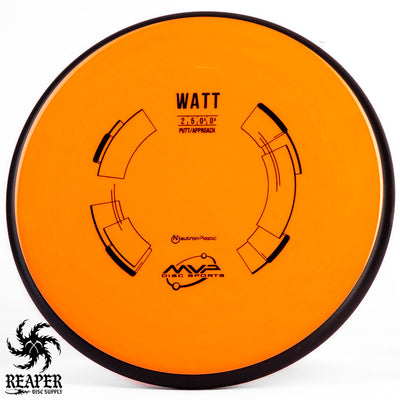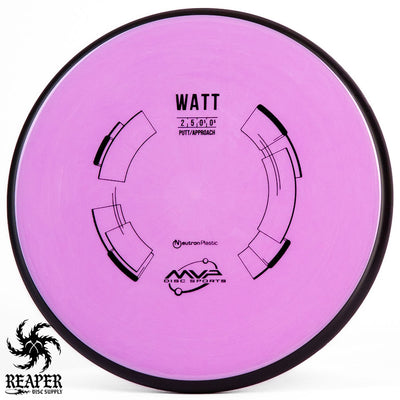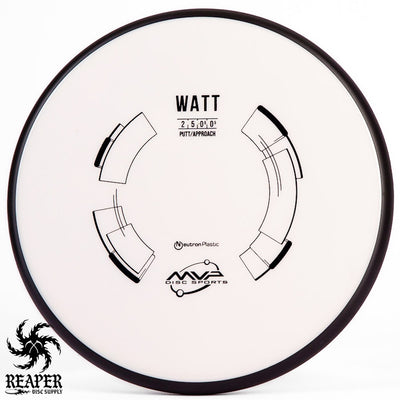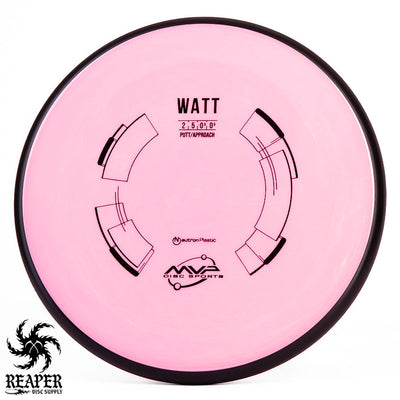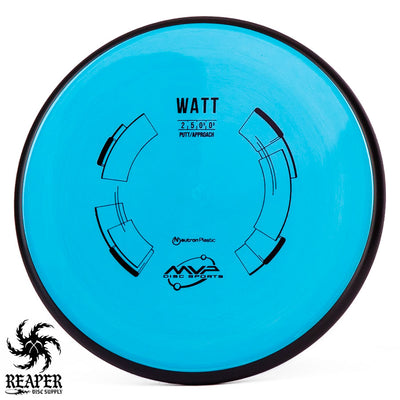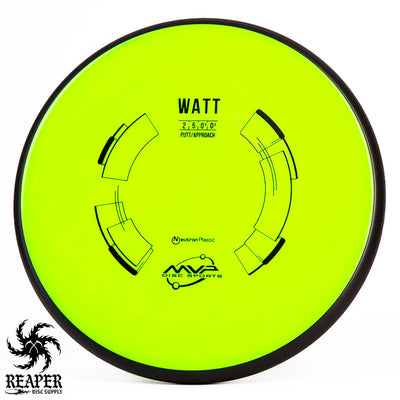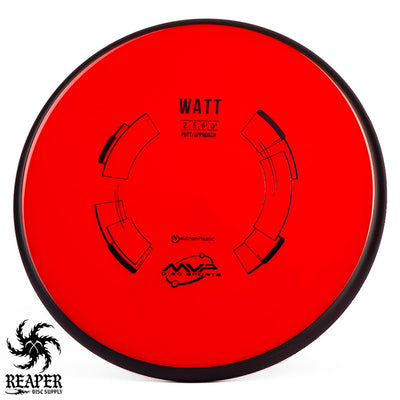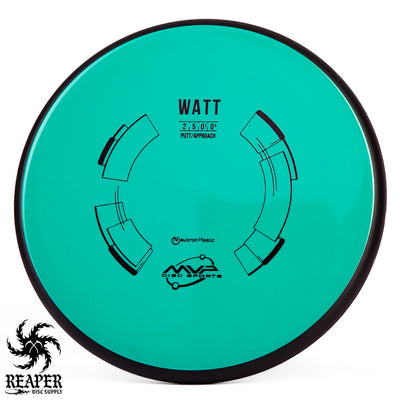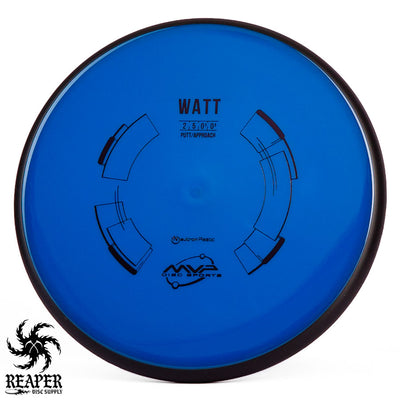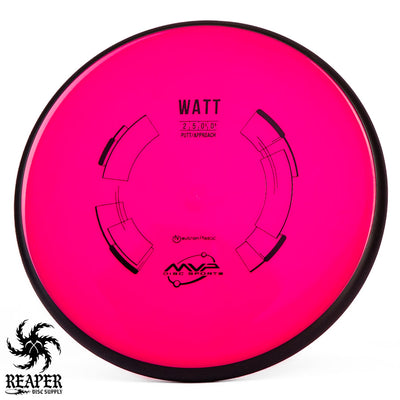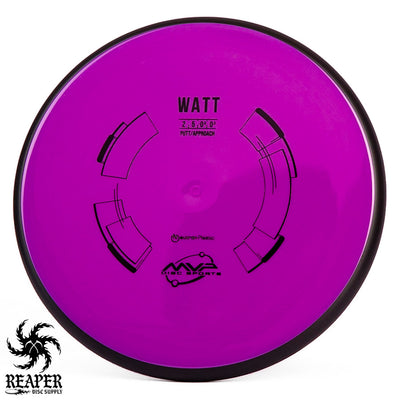 Step up your game with the MVP Neutron Watt. Coming in at 2 | 5 | -0.5 | 0.5, this full-weight putter can glide like no other and isn't joking around. Even if you're just introducing yourself to disc golf, the Watt welcomes you with open arms—a beginner-friendly workhorse to help sharpen those throws.

Don't be fooled though, the Watt isn't just for putting. Its reliable grip and unmatched workability also make it a fantastic throwing/driving putter. You ever throw the MVP Glitch? Yeah? Now, imagine it heavier, more stable, and with even more glide—that's the Watt for you.

Taking on a wooded course? Don't sweat it, mate. The Watt is an ace at shaping lines, weaving in and out of branches like it's breezing through open air. You'll be the Robin Hood of the disc golf world in no time!

As for the physical appeal, this stunner comes in MVP's flagship blend with the brightest opaque colors. Easy to spot on any terrain and tough as nails, the Watt takes both aesthetics and durability into the stratosphere.

Upgrade your disc golf arsenal with the MVP Neutron Watt. It's time for less talk, more throws!

Flight Numbers
Speed: 2
Glide: 5
Turn: -0.5
Fade: 0.5
Beginner Friendly?: Yes, this disc is perfect for newcomers diving into the thrilling game of disc golf.
Disc Type: The MVP Neutron Watt is a putting and driving disc, exceptional for throws with straight lines or beautiful turnovers.
Stability: This disc offers high stability, a confidence booster for your throws with its reliable and consistent flight path.
Plastic: The MVP Neutron Watt is made from MVP's flagship plastic blend, offering premium appearance and feel along with excellent grip and durability.
Shot Types: The MVP Neutron Watt is highly versatile - from laser straight lines to beautiful turnovers, it's ideal for shaping lines whether on open fields or densely wooded courses.
PDGA Dimensions
Height: 1.8 cm
Rim Depth: 1.5 cm
Rim Thickness: 1.1 cm
Diameter: 21.2 cm
Flexibility: 5.91 kg
Max Weight: 176.0 gr