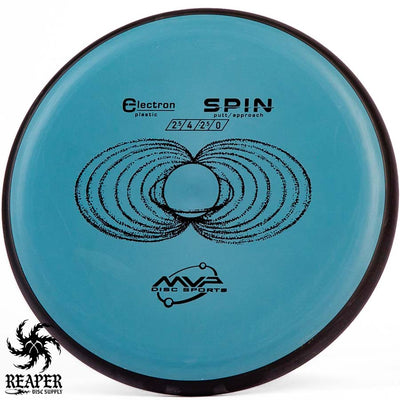 MVP Electron Spin Review
As you step onto the disc golf course, the MVP Electron Spin putter is ready to impress you with its smooth turn and grippy plastic. This understable putter is perfect for players of all skill levels, providing a point-and-shoot straight trajectory for short-range putts, and a responsive turn for approach and driving distances.

The Spin's high-tech baseline Electron plastic offers excellent grip and is designed to wear slowly with use, giving you added glide and neutral flight over time.

The deep rounded rim makes the Spin a uniquely comfortable disc to hold, and its reliable turn makes it a favorite for tailwind shots. While the unique feel might take some getting used to for beginners, the Spin's versatility makes it a great addition to any player's bag.

With the MVP Electron Spin, you'll find yourself making those long putts and enjoying the disc's ability to stay straight without fading at all. If you love the feel of MVP's Electron plastic and want to try a putt and approach disc with a distinct touch, give the MVP Spin a shot. It's a game-changer that'll help you consistently nail those crucial putts and approach shots on the course.

MVP Spin Flight Numbers
Speed: 2.5
Glide: 4
Turn: -2.5
Fade: 0
Commonly used for:
Putt & Approach
Stability:
Understable
Experience:
Any
Rim:
Beadless
Dimensions & Specs
Height: 1.9 cm
Rim Depth: 1.5 cm
Rim Thickness: 1.1 cm
Diameter: 21.0 cm
Flexibility: 7.37 kg
Max Weight: 174.3 kg