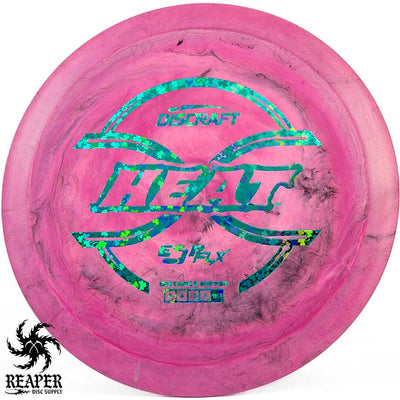 The Discraft ESP FLX Heat is an understable disc golf driver that is easy to throw and perfect for beginners. Made with Discraft's new ESP FLX plastic blend, this disc combines the durability of FLX with the comfortable feel and vibrant swirls of premium ESP.

The Heat in ESP FLX is a fantastic choice for players of all skill levels because it has incredible grip in all weather conditions and maintains its stability for a long time. Whether you're throwing in colder climates or sunny weather, the Heat driver will give you the distance and accuracy you need to dominate the course.

Its unique plastic blend will provide a comfortable feel in the hand, making it an excellent choice for disc golf fans. Whether you're a seasoned pro or just starting out on your disc golf journey, the Discraft ESP FLX Heat is a valuable addition to your disc golf bag.

Discraft Heat Flight Numbers
Speed: 9
Glide: 6
Turn: -3
Fade: 1
Commonly used for:
Distance Driver
Stability:
Understable
Experience:
Beginner
Rim:
Beadless
ESP FLX Heat Specs
Height: 2.1 cm
Rim Depth: 1.2 cm
Rim Thickness: 1.9 cm
Diameter: 21.1 cm
Flexibility: 11.00 kg
Max Weight: 175.1 gr